Theodore Sedgwick (1747 – 1813)
by Gilbert Stuart
Museum of Fine Arts, Boston
Theodore Sedgwick was one of the lawyers who won Mumbet's freedom. He was assisted by Tapping Reeve.
Born in Connecticut. Member of Massachusetts state legislature; Delegate to Continental Congress from Massachusetts; U.S. Representative from Massachusetts, 1789-96, 1799-1801; Speaker of the U.S. House, 1799-1801; U.S. Senator from Massachusetts, 1796-99; state court judge; He wrote about Mumbet. Theodore Sedgwick knew George Washington, John Jay, Henry Knox, Alexander Hamilton, and others of note.
Mumbet served in the Sedgwick household after leaving the Ashley House and became a central figure in the home and continued as a faithful servant when the Sedgwick family moved to Stockbridge.
In 1802, Sedgwick was appointed a justice of the Supreme Judicial Court of Massachusetts. He held this position until his death. Theodore is the centerpiece of the "Sedgwick Pie" in which Mumbet is buried with the family plot.
The Office of the Clerk, U.S. House of representatives lists Sedgwick as the 6th Speaker of the House. Wikipedia has an article about Sedgwick.
Sedgwick Home in Sheffield
The home where Theodore Sedgwick lived in when Mumbet walked the four miles from Ashley Falls to his home/office still exists today and you can view the front of this private home, not open to the public below.

Below is another photograph of the actual home office Sedgwick lived in when Mumbet walked from the Ashley House to Sheffield.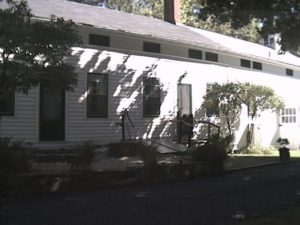 The Sedgwick Office above where Mumbet walked from the Ashley House to ask Theodore Sedgwick to represent her case for freedom is still in existence and is a private home in Sheffield This part of the house was the original office Sedgwick used in in 1781.
This view of the Sedgwick office in the photo below is from the East looking West. The original Sedgwick office was from this garage to the pillars you see in the distance. The addition at the end from the pillars on did not exist in Sedgwick's day. In 1781, Sedgwick's office and home is what you are looking at. This home is a private home today and the owner gave permission for mumbet.com to photograph it and publish this on the web.

Theodore Sedgwick owned slaves (at least one), and it is documented with a bill of sale (below) dated July 1, 1777 (Sedgwick was 30 years old at the time) showing General John Fellows sold a slave woman named Ton to Theodore Sedgwick, according to the Massachusetts Historical Society.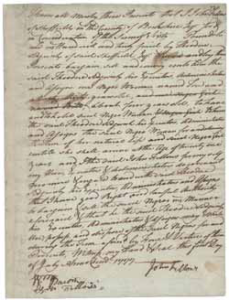 Theodore Sedgwick Books